6/25/2017 9:45:42 AM
"Is it True That You Are a Communist?"
"Is it True That You Are a Communist?"
Are we on the verge of another spiritual reformation? 500 years ago a monk named, Martin Luther nailed his 95 theses on the church door in Wittenberg Germany, as a protest against practices contrary to the Bible. Many view this act as the start of the Protestant Reformation. Once again, the church is in need of another reformation. There is much confusion among protestant evangelical today, but praise God that he is raising leaders who are returning to the principles of the reformation of 1517. One of those leaders is Dr. Miguel Nuñez. He is the Pastor of Iglesia Bautista Internacional and the founder of Ministerio Integridad y Sabiduria in Santo Domingo, Dominican Republic.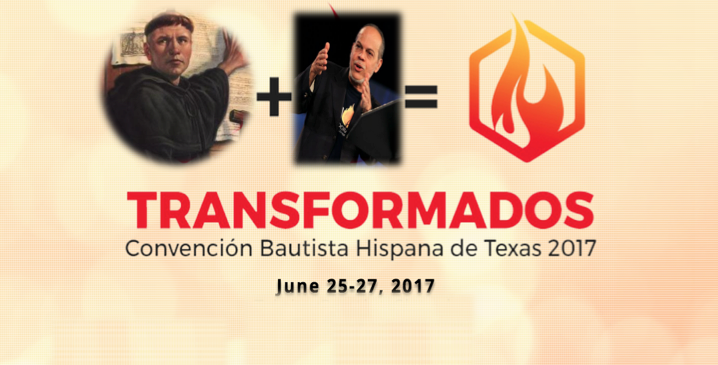 I am glad to see that the Hispanic Baptist Convention of Texas (or La Convención Bautista Hispana de Texas) has invited Dr. Nuñez to be one of their keynote speakers at their annual meeting this year. I hope the convention is returning to, or at least open to historical, biblical principles. This is a turn in the right direction, compared to one of their last keynote speakers, who is a prosperity gospel, word of faith teacher, Bishop Samuel Rodriguez. I'm not sure if the convention chooses it's annual convention speakers by how much of a following or influence the person has, but I am glad they have at least opened the door to Pastor Nuñez. God has used Dr. Nuñez and others to birth a reformation among Hispanic Baptists churches. His latest book addresses this issue (Las Enseñanzas Que Transformaron el Mundo: Un llamado a despertar para la iglesia en Latino América). This reformation is not about style or denomination, but a return to the core principles of our faith. It could be summarized in the acrostic TULIP or the 5 Solas of the Protestant Reformation:
Sola Scriptura ("Scripture alone"): The inerrant Scripture alone is our authority.
Sola Gratia ("grace alone"): We are saved by the grace of God alone.
Sola Fide ("faith alone"): We are justified through faith alone in Jesus Christ.
Solus Christus ("Christ alone"): By Christ's work alone we are saved.
Soli Deo Gloria ("for the glory of God alone"): We live for the glory of God alone.
Dr. Nuñez does a great job describing the necessity to return to the 5 Solas and the necessity to return to Reformed Theology. Reformed Theology is also known as, the Doctrines of Grace, or Calvinism. Unfortunately, many Baptist have rejected it and even gone so far as to label this theology as heresy. I believe the reason is the fact that many pastors and seminary professors, in ignorance or error, have taught that Calvinism is heretical. For example, you hear this type of rhetoric from seminaries like, Truett Theological Seminary and Southwestern Baptist Theological Seminary. You can either agree or disagree with Calvinism, but it is foolish to classify it as false teaching. There are many 'closet Calvinist' that are afraid to speak up. If you are reformed, you are the minority! But, be encouraged friend we are in good company… with men like Jonathan Edwards, John Owen, William Wilberforce, James Boyce & John Broadus, BH Carroll, George Whitefield, William Carey, John Fox, John Newton, Matthew Henry, Charles Spurgeon, and JI Packer; just to name a few.
Calvinism and Arminianism have been the two major antithetical theological positions in Christian history. Baptist should study their history. The majority of Baptist in North America were Calvinist at one point. I'll never forget when a lady in church nervously asked me, "Pastor, is it true that you are a communist?" I jumped in shock and disbelief. I replied, "a communist?" Then, I understood and tried to clarify, "oh you mean a Calvinist J Yes sister, I'm a Calvinist. Unfortunately, she seemed even more frightened after the response. This is what happens when most Baptist hear the word Calvinism today, they think you either have Russian ties or you are in some cult. However, nothing could be further from the truth.
Calvinism or Reformed Theology is not a new teaching. It may be new to you, but it has been taught since the apostolic age. Also, many think that Calvinism is following the teachings of a man, John Calvin. This is false. Calvin helped articulate and systematize the doctrines of Reformed Theology, but he did not come up with this theology. The opposite is true; Reformed Theology is a God-centered theology (vs. Man-Centered). I like the way the Charles Spurgeon, the great Baptist preacher stated it, "Reformed theology is nothing more than biblical Christianity." This is what theology should be about, right? The desire of every Christian should be to biblically align our worldview and church practice as much as possible. We must always study the Scriptures and allow it to examine and align our thinking.
If Reformed Theology is new to you, or if all you have heard is negative stereotypes I encourage you to study it. Most people recognize this theology with the acrostic TULIP (Total Depravity, Unconditional Election, Limited Atonement, Irresistible Grace, & Perseverance of the Saints). Most Baptists have only heard a biased view of the reformed faith. However, most Baptists refer to the works of reformed pastors for their Bible study and preaching (i.e. Matthew Henry, Charles Spurgeon…). I encourage you to seriously study the reformed doctrines for yourself. Study the Bible to see what theological position aligns more accurately (Arminianism or Calvinism). And after months of study and being under the teaching of reformed pastors (Miguel Nuñez, Sugel Michelen, John MacArthur, etc… sermonaudio), then make an informed decision. If after this process you consider yourself an Arminian, then God bless you. We must get past the demagoguing, over which position is right or wrong. These two theological positions have been debated over the centuries.
I hope the convention continues to invite reformed speakers, and I pray that Hispanic pastors and churches start to embrace the reformed faith. We all labor for the kingdom and we all desire a spiritual reformation. Let us stand on biblical princiles with men like Martin Luther, when told to recant he famously said, "Unless I am convinced by the testimony of the Scriptures or by clear reason…, I am bound by the Scriptures; my conscience is captive to the Word of God. I cannot and will not recant anything, since it is neither safe nor right to go against conscience. Here I stand, I can do no other. May God help me. Amen."